As an Amazon Associate I earn from qualifying purchases.
My morning routine isn't much of a routine as a busy mom, which is why minimalist beauty is so important to me.
Why I Love Minimalist Beauty
I made a decision to stop wearing makeup a few years back. Since then I have gone back to wearing blush a couple times a week when I'm feeling *extra*, haha.  On occasion, I still will put on more makeup if I need to, for example making a video where there's a ton of light shining on me.  I do still generally try to stay away from as much as possible on my face.
Are there  I miss getting all glammed up?  Once in a while,  but I don't have any regrets.  That's what has led me to really take a look at things and work on a minimalist beauty routine.
Introduction To Minimalist Beauty
Minimalist beauty is about simplifying how much I use and how much time I spend on prettying myself up. These things are true.
But at its heart, it's really about natural beauty.  Natural beauty highlights our qualities that are already there.
It isn't about completely ignoring yourself, and never putting anything on your face either.  Your even a minimalist beauty routine can be an important part of self care.
Adjusting To Minimalist Beauty
I had to get used to my face without makeup, and it took a long time. I thought I looked ugly without it because people would ask if I was tired or sick. I thought this meant that I looked bad, but the truth is that they simply noticed that it was different. And over time, no one notices because this is just my face now. I have had people say, "Well, you don't need to wear makeup. You look fine without it."
But so does everyone, including you. We just have to get ourselves, and the world, accustomed to our faces and allow our natural features to shine the way they were meant to.
Changing  your look can be shocking to yourself, and everyone around  you.  At the end of the day what matters is how you feel about yourself, not the opinion of others.  I know, I know, easier said than done.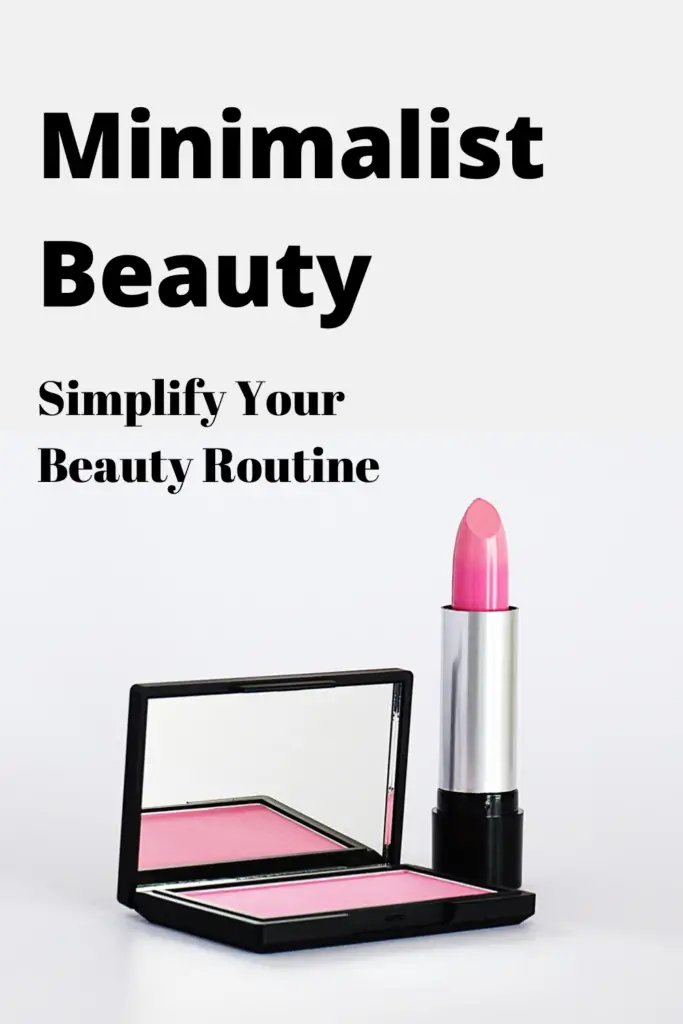 As an Amazon Associate I earn from qualifying purchases.
Your New Minimalist Beauty Routine
So let's get into it. Here are my minimalist beauty tips to help you develop your new minimalist beauty routine. I am going to link some stuff in this blog that I like to use.
Here are some basic tips to follow:
Shape your brows
Shaping your brows can literally change your face. Microblading is a new way to tally wake up with your face half done and no effort required. These days I just pluck a bit so they're not bushy and crazy. I notice a huge difference in how I look and feel when I just maintain my brow shape.
Good tweezers make a world of difference, and Tweezerman can't be beat here.  You can also send in your tweezers for lifetime sharpening.
Keep stuff on your face to a minimum
What I mean is try not to clog your pores with stuff. I remember being 12 starting out with makeup, using heavy liquid foundation and smearing it into my skin. You know the look. Orange face, line under the chin, zits highlighted by caked on foundation and ashy power. Think light and healthy.
Healthy glow
I love just putting a little highlighter above my cheekbone for that extra glow. It's simple, doesn't cake on my face and is a simple way to add some major glam.
Blush cheeks
Blush just adds a little color to my face, especially in the winter months when I'm living like a vampire and my skin is pale and a little colorless. It adds some warmth to my skin that I enjoy.
Lips
My favorite minimalist beauty look is a strong shaped brow and some bright, bold lips. If you love a makeup look and do nothing else, brows and lips is the way to go! It really completes a whole face in my opinion. But ultimately a little lip gloss these days is enough to give me some glam.
Most days I just make sure my lips are moisturized and not dry, and I love the way this simplicity looks as well. Moisturized lips look fuller and younger.
Minimalist Makeup
When I do wear makeup these days, I have a new go to.  Just about everything I use is from Bare Minerals.
Why?  It easily accentuates  your natural beauty, and there isn't really much work required.
In almost no time at all I'm video ready, looking 100% natural.
The best part is none of these products irritate my skin or make me break out, which is a huge feat for me.
Minimalist Skin Care Routine
Minimalist beauty does not mean ignoring your skin!
There's two basic skin care categories that you need to focus on for any minimalist skin care routine:
Cleanse
A light cleanser for my face is a must for me.  I notice if  I don't wash my face in the morning it just feels sticky and icky.  I wash my face in the morning no matter what, and in the shower when I take a shower.
I will also wash my face at the end of the day day if I am wearing makeup, but more on that later.
I focus on a light and natural cleanser.  Hands down my favorite is the Aveda All Sensitive cleanser.
Moisturize
I have super dry eczema prone skin, so I have to be careful and thorough with what I use. Moisture is great for anyone, even if you don't think you have dry skin. Keeping your skin moisturized will in the long term keep your skin more youthful.
Because my skin is so sensitive, once again I turn to Aveda all sensitive moisturizer.
Body Care
Exfoliation
For exfoliation on my body, I love a good moisturizing scrub. What I love about foaming sugar scrubs is that they cleanse while they exfoliate.
This is my favorite brown sugar scrub, and is one of my main go-tos.
If I'm looking to really relax and take a break, I pick one of these Salt Scrubs.  My favorite is lavender, but it comes in all sorts of different scents and infused with essential oils.
Cleanse
If you've got kids, you know some of the only time you're truly alone is in the shower.  I tend not to skimp on some of these self care items, and a guilty pleasure is nicely scented shower gels.
I like this tea tree shower gel, which is really invigorating.  If I'm taking a shower at night, I usually use lavender.
Hydration
When my eczema is really bad, I tend to have to use something like Aquaphor, which is petroleum based and basically gets all over everything, but hey, it works.
I prefer unscented lotions for my skin.  I have two go-tos.  One is anything by Vanicream which is amazing and hypoallergenic.  They also make a full line of shampoos, conditioners, and cleansers if you truly have sensitive skin.
Another great lotion is Kiss My Face Olive and Aloe which is also unscented.
Hair Care
Have curly hair?  Don't miss my detailed post about my minimal curly hair routine.
In general, I feel like less is more most of the time when it comes to beauty and hair care.
Ideally you want to highlight your hair's natural features instead of trying to force it to do what it doesn't want to do. Your natural hair color will bring out your eyes. Don?t straighten your curls or perm that gorgeous straight hair! Embrace your natural beauty and learn how to make your hair thrive in its natural state.
Cleanse
I do very little cleansing because it dries my hair out. You might have a hair or skin type that needs to be washed with every shower. Keep in mind that the more you wash your hair, the more oil it will produce. So even if you think you have oily hair, it's possible that you might not need to wash it everyday.
Try to ease up on the washing, and see what happens.  I always make sure to use a good moisturizing shampoo when I do cleanse.
Condition
If you have oily hair, you might focus more on cleansing that conditioning. I focus more on conditioning than cleansing. Conditioner is usually all I use. I leave it in for as long as possible, and then typically put conditioner in my hair *after* a shower as well to manage my crazy curls. It works well for me. I would never recommend using regular conditioner as a leave in for someone with straight hair though.
Leave In
If you just need help getting out some extra knots, you might just need a simple detangler. I need a good quality leave in, or I use a regular conditioner to leave in my hair as a styling product for my curls.
Minimalist Beauty Challenge
I'd like to challenge all of you to strip down your morning routine for one week. Pick an area to focus on and try a more simple, natural beauty routine.
Maybe you take a week to stop wearing makeup and see how you feel afterwards. Or if you straighten your hair everyday, give it a break and see what it looks like naturally.
If you are used to showering everyday and washing your hair everyday, just know that adjusting to a change in this process will probably take more than a week. Over washing can cause your hair to produce more oils.  Start with washing your hair every other day, and see what a difference that can make.
So when you stop washing everyday, it will probably get worse before it gets better. But once your skin adjusts to the change you will notice a difference and probably not need to cleanse daily anymore.