As an Amazon Associate I earn from qualifying purchases.
If you are trying to simplify, there are lots of easy ways to start your journey to being a minimalist mom.
As moms, we wear a lot of different hats. We do a lot of different things. And there is no reason why we can't learn to simplify in all areas of your life.
As a minimalist mom I have learned how to declutter lots of different areas of my life. I have written before about how to declutter your bathroom and thought that I would expand on other parts of our lives. Here is how as a minimalist mom you can simplify other areas of your life.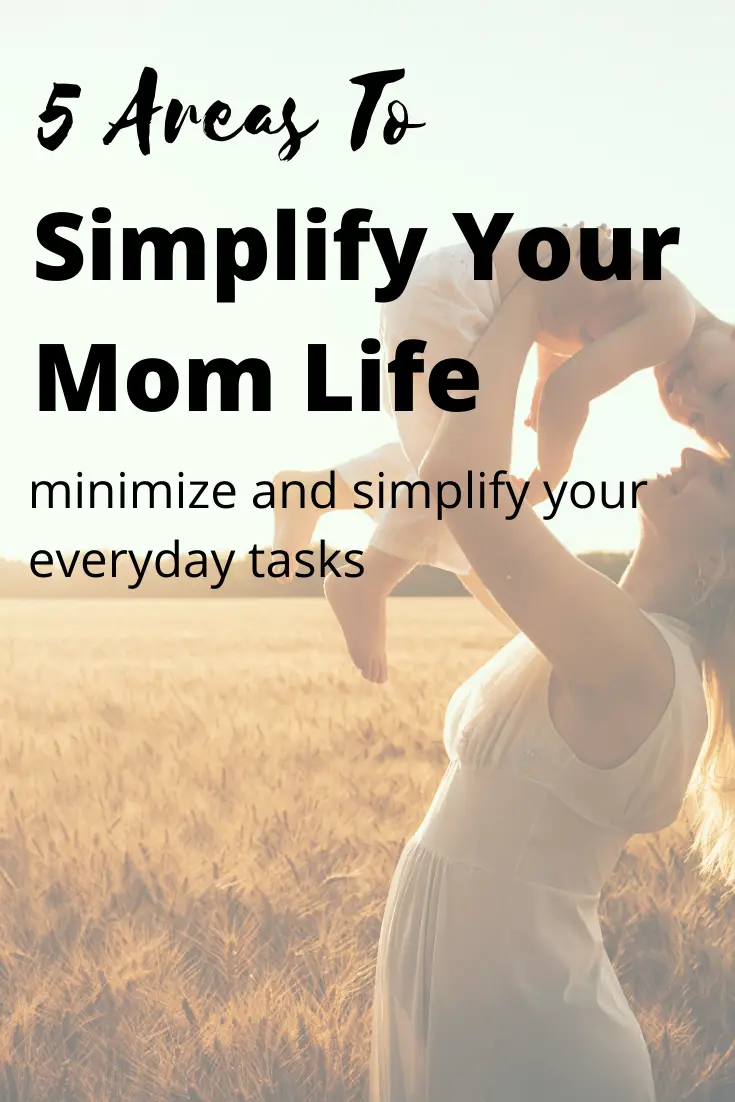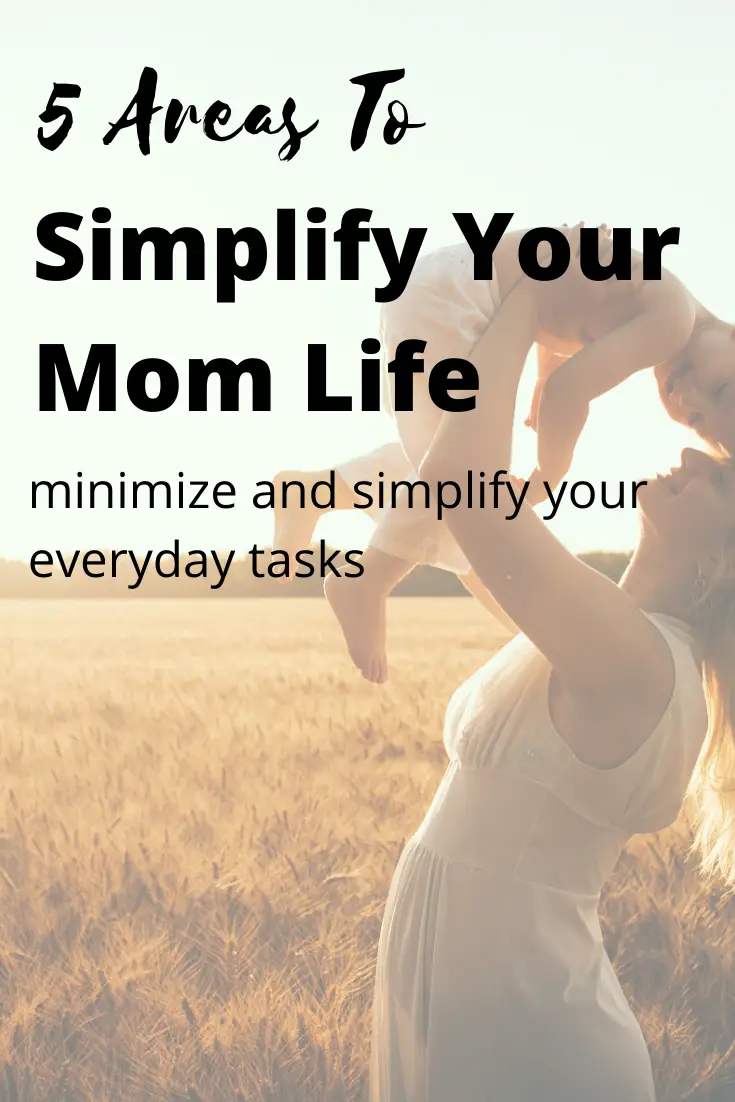 My Minimalist Mom Tips
Minimize Your Routine
I think when we think of minimizing a lot of us immediately think about decluttering stuff, physical things. But I want to look at the whole picture. We can minimize our time, our mental clutter and our routine.
Keep The Phone Off
I waste a lot of time scrolling on social media or reading articles that aren't that important. Entertainment is good and there is a time and a place for that, but it's definitely not first thing in the morning. Keep your phone off until your day is started. Consider scheduling social media time to certain parts of your day so you're not mindlessly wasting time.
Have A Written Schedule
If you are busy, having a written schedule can help you organize your life. But it can also help you make better decisions and filter priorities. Keep a sleep schedule, prepare your kids for expectations and make daily to do lists to stay focused.
Also consider reevaluating long standing commitments. It's okay to say no, or to stop doing something you have been doing for a long time that no longer brings you joy.
Empower Your Kids To Be Independent
This is dependent on age and ability. But for myself, if I am honest, there is a lot I do for my kids that they can do themselves. It's hard to let go when they start getting bigger. And I admittedly can be controlling at times.
Let your kids get dressed. Let them pick their clothes and wear mismatching outfits. Teach them how to make a bowl of cereal, toast, eggs, simple stuff. There is so much value in teaching our kids independence outside of just simplifying our own time. Be open minded and flexible.
Simplify Your Bathroom
Start By Organizing
Organize everything by category so you can see everything that you have. Then establish your favorites, go through the stuff you don't like first (or give away or trash) and then stick to only purchasing your favorites in the future. Don't make spontaneous decisions that involve buying that lotion that smells good, but that you'll never actually use.
Marry duplicates if you have more than one open container of the same thing. Check expiration dates.
Find A Place For Everything
Everything should be in a drawer or cupboard. I like to leave the counter completely clear except for toothbrushes which need air and circulation, and maybe something simple and decorative. Keep the countertop clear of clutter.
Minimize Waste
Start using washcloths instead of paper towels. If you're feeling bold there are a ton of other things you can stop using disposable versions of including feminine products, toilet paper and plastic bottles from hair care products (if you live somewhere that has fillable options.)
Minimize Your Kitchen
Organize All Storage
Organize your pantry, the fridge, drawers, cabinets. All the things. And take an inventory. Know what you have. Don't leave a corner unchecked. Marry duplicates just like we did in the bathroom.
Don't forget to tackle tupperware. Discard incomplete sets.
Use What Your Have
Start using up what you have before filling the kitchen with new items. Get rid of expired items, or donate stuff that has been sitting for a long time that you're not sure you're going to use.
Prioritize perishables every week. Stop throwing away good food!
Minimize Dishes
I know this seems like a stretch for some, but my family of 4 has 4 plates, 4 forks, etc. We hand wash dishes after every meal and use again for the next. It's simple and we don?t end up with a dishwasher full of stuff to put away.
If you entertain a lot, keep the extra stuff you save for guests out of your regular rotation.
Minimize Your Laundry
Rewear Items
Sometimes my kids like to do wardrobe changes in the middle of the day. Don't let clean clothes make their way into the laundry basket.
Also, if you didn't sweat profusely or get food on your clothes, consider recycling them before washing. We rewear a lot in our household. ProTip: The less you own, the less you have to wash! Get rid of some clothes and declutter your closet.
Also consider reusing bath towels. You don't have to use a new towel every time you shower.
Wear Multifunctional Clothes
If the weather fluctuates, wear layers. Have less pieces of clothing with more uses to minimize your closet. I'm sure you can find articles about 20 ways to use that little black dress. Wear it with heels, be casual with a jean jacket and some tennis shoes? You get the idea.
Minimize Laundry Baskets
If you have 10 laundry baskets you're probably going to fill them all up before you force yourself to do laundry, haha.
Get rid of laundry baskets and do the laundry when they get full. This will keep your laundry chore down to a minimal amount. Encourage more frequent washes instead of procrastination.
Minimize Your Shopping
Make A List
Make a list and stick to it. This will help minimize your budget and your time as well. Don't shop sales for items you were not originally planning on buying.
Consider utilizing grocery pickup to encourage you to stick to your list and save additional time. This feature is becoming increasingly more accessible in more stores.
Shop Hand Me Downs
For clothes, consider looking for hand me downs. I am a part of some online mommy groups where women can post needs or post things they have to give away. It's a great place to find free clothes for kids since they grow out of them so quickly.
If you do go shopping for clothes, make a specific list of needs for you or the kids and stick to the list.
Shop Online
This can help save you time, but be careful not to abuse this wildly convenient option we have. It's easy to shop online too much. But it can be really handy for busy moms, and you can pretty much get anything online these days including dry goods, household items? literally pretty much anything.
Minimalist Mom Life Summary
These are just some suggestions on how to simplify your minimalist mom life. These minimalist mom tips will help you to get started.
But don't just stop here. Think about other areas of your home you can minimize. Your work, your social life, homeschooling? whatever it is you spend your time doing.
If you haven't done so already, make sure you subscribe to my list using the form at the bottom of this page to get your FREE Simplify Your Mom Life Checklist!