As an Amazon Associate I earn from qualifying purchases.
When it comes to spring cleaning most rooms don't need as much work as the kitchen. Kitchens are used and cleaned on a daily basis. There are some cleaning tasks that often get overlooked or don't get done as often as they should. Using spring cleaning to get these tasks done is a great way to make sure they happen for your family.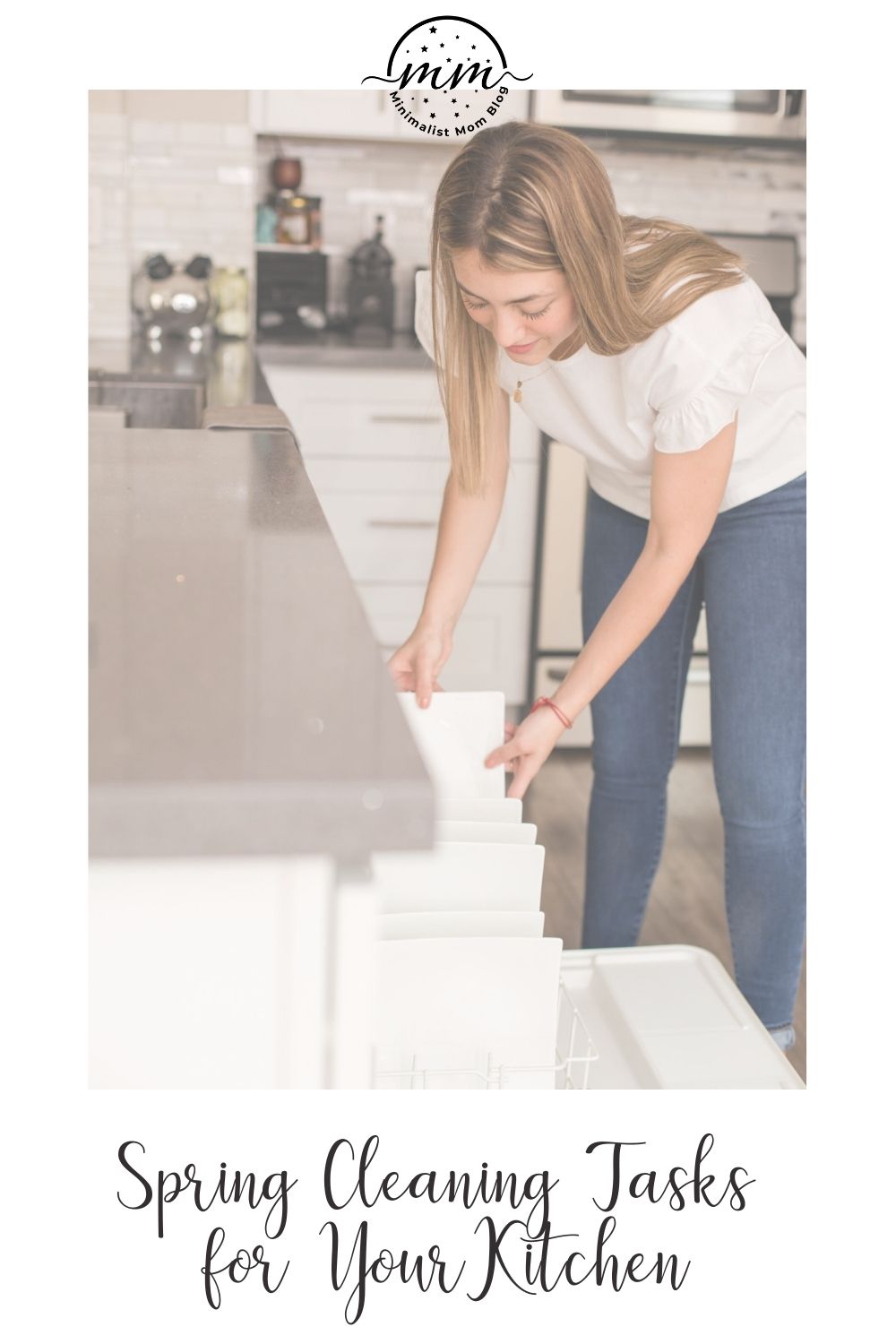 How do I clean everything in my kitchen?
Spring cleaning can be overwhelming at first, but it is one of those things you will feel great after doing.
When it comes to cleaning everything in your kitchen, the trick is to start with the things you clean the least. These are the items that are going to take the most time, since they are the most dirty.
Let's take a look at some things in your kitchen that are due for a deep cleaning in the spring.
Your refrigerator needs a good cleaning. While some of us may clean out the refrigerator from spoiled food weekly, it is time to pay some special attention to the refrigerator.
During spring cleaning give your fridge a good clean out to find any hidden science experiments and scrub out spills that worked their way down under the produce bins.
Give the top of your refrigerator a good cleaning to get rid of dust and random things that have gotten shoved in the back out of reach. While the top of your refrigerator is empty line ith with cleaning wrap so next time you can just pull it up the dust and mess to make cleaning easier.
While you are working on the refrigerator pull it about and clean under it. Take a brush or a sister tow the back coils to remove as much dust and build up as you can. You may need to go under the refrigerator to clean the coils on some models. Doing this will improve the overall lifespan of your refrigerator and help protect your investment and food supply.
This is a great tool to clean underneath the refrigerator, and best of all the mop part is machine washable.
How to Clean Your Pantry
While your spring cleaning is the perfect time to give your pantry a good clean out. This includes dusting and checking expiration dates on foods in your pantry.
Check the use by dates and place soon to expire items one one spot so you can plant to use them up in meals over the next couple weeks. Place the closer expiration dates at the front to get your pantry rotation back under control.
How to Spring Clean your cabinets
Spring cleaning is the perfect time to clean out your cabinets. This includes the lower cabinets and under your sink where cleaning is often ignored. Line the shelves with shelf liner or cling wrap to make for easy clean ups in the future. If you have young kids cleaning out lower cabinets that may be harder for you to reach is a great spring cleaning job in the kitchen for kids.
Last but not least, wipe down each and every handle, knob, and switch in your kitchen. I'm talking about drawer and cabinet knobs and handles, appliance knobs and handles, as well as light switches.
How do you deep clean a dirty kitchen?
Now that we've tackled the refrigerator and other overlooked areas, let's take a look at how to deep clean a dirty kitchen. We're going to switch to some of the most commonly used areas.
Cleaning Your Range and Oven
Another area that often just gets quick clean ups and not good deep cleanings is the rage and oven. Cleaning your stove and oven can help prevent fires or unnecessary setting off of the smoke alarms. When spring cleaning, give your oven a good cleaning including dumpling out ashes that have fallen into the broiler drawer under your oven.
Take the time to pull out the oven and clean under and behind it to get small items that have fallen or rolled. If you have a gas oven, clean the burner grates by leaving them in a bag of cleaning ammonia outback overnight and raising in the morning.
Clean away excess grease around your range. This can include stuck on grease on the counter and grease that has gotten stuck in the grease trap above your stove where the light and fan are. If you have a filter here be sure to clean or replace it.
Cleaning Your Dishwasher
When spring cleaning don't forget to give your dishwasher a good cleaning. Dishwasher cleaners can be found at the local grocery store and make the perfect starting pint for this. After running a dishwasher cleaner pull out the racks and fully clean the drain to help improve drainage of your dishwasher. Cleaning can extend the life of your dishwasher and improve how well it cleans your dishes.
Speaking of the dishwasher, don't forget the kitchen sink! I am sure to give my kitchen sink a good scrubbing at least once a week, but it also belongs in the spring cleaning routine since it is one of the most commonly used items in your kitchen!
Things you should clean every day in your kitchen
Finally, let's switch to the things I like to clean in my kitchen each and every day.
Be sure to give your countertop a good cleaning. This is also a good time to evaluate any clutter that has built up on your countertop, and try to reduce it.
Don't forget to give your kitchen floor a good mopping! Daily, I like to sweep or vacuum the kitchen floor after I have cleaned the countertops.
Cleaning Supplies for Spring Cleaning Your Kitchen
When it comes to spring cleaning my kitchen, I tend to keep everything as natural as possible. I don't like to use commercial cleaners for a number of reasons.
Be sure to check out my complete guide to cleaning naturally, and how to clean your whole home with vinegar. Here are some of the cleaning supplies from those articles you may find useful:
Natural Cleaning Tools
Here is absolutely everything you need to get started cleaning the natural way!
Lemon is my go to essential oil for cleaning, it smells great and fresh, and has amazing cleaning power.
Baking soda is a key ingredient when it comes to cleaning and scrubbing naturally. These shakers make it easy to use.
Vinegar is a must for natural cleaning, and you'll be surprised how fast you go through this huge contianer!
Olive oil is a must for home made wood polishes.
Hydrogen Peroxide is another natural cleaning staple.
These glass amber spray bottles look great!
These plastic spray bottles are economical to leave in the kitchen and in each bathroom.
Microfiber cleaning cloths are an essential, and eco friendly.
These are hands down my favorite microfiber cleaning cloths, as they are infused with silver for anit-microbal properties.
A Simple Spring Cleaning Checklist Printable for Your Kitchen
Remember everything I just talked about? Of course you don't, because you're busy like I am.
That's why I've created this simple spring cleaning checklist printable for you to keep handy. Just click the image to download!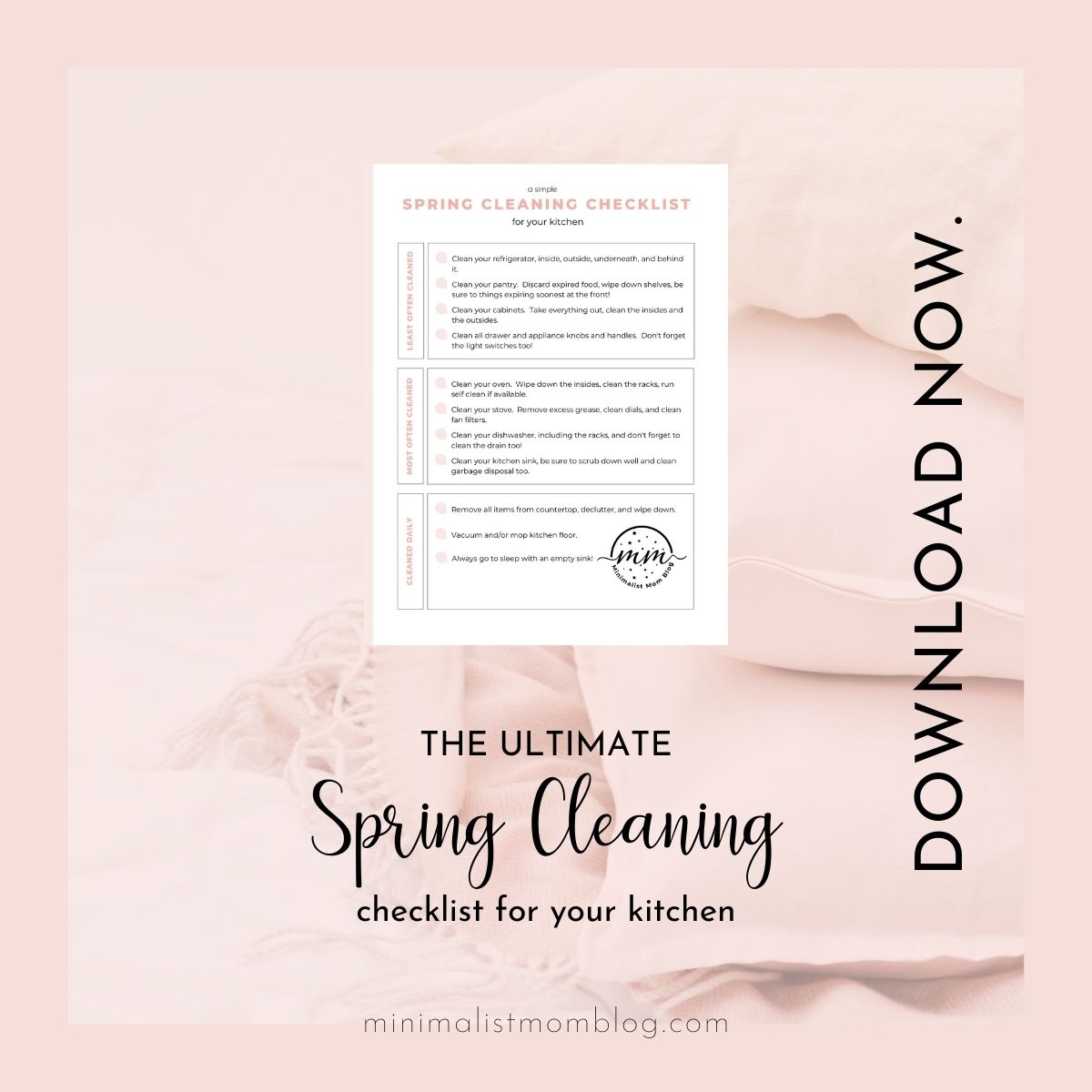 I've organized it in three sections:
Least often cleaned
Most often cleaned
Cleaned daily
This spring cleaning checklist printable should help you get started in your kitchen! Happy cleaning!