As an Amazon Associate I earn from qualifying purchases.
How many times have you tried to search for a specific lid, only to give up and use a random one to cover up your pot? How about trying to get a particular pan in the back of your cupboard, just to realize you've grabbed the wrong one, yet again? I've experienced it too many times!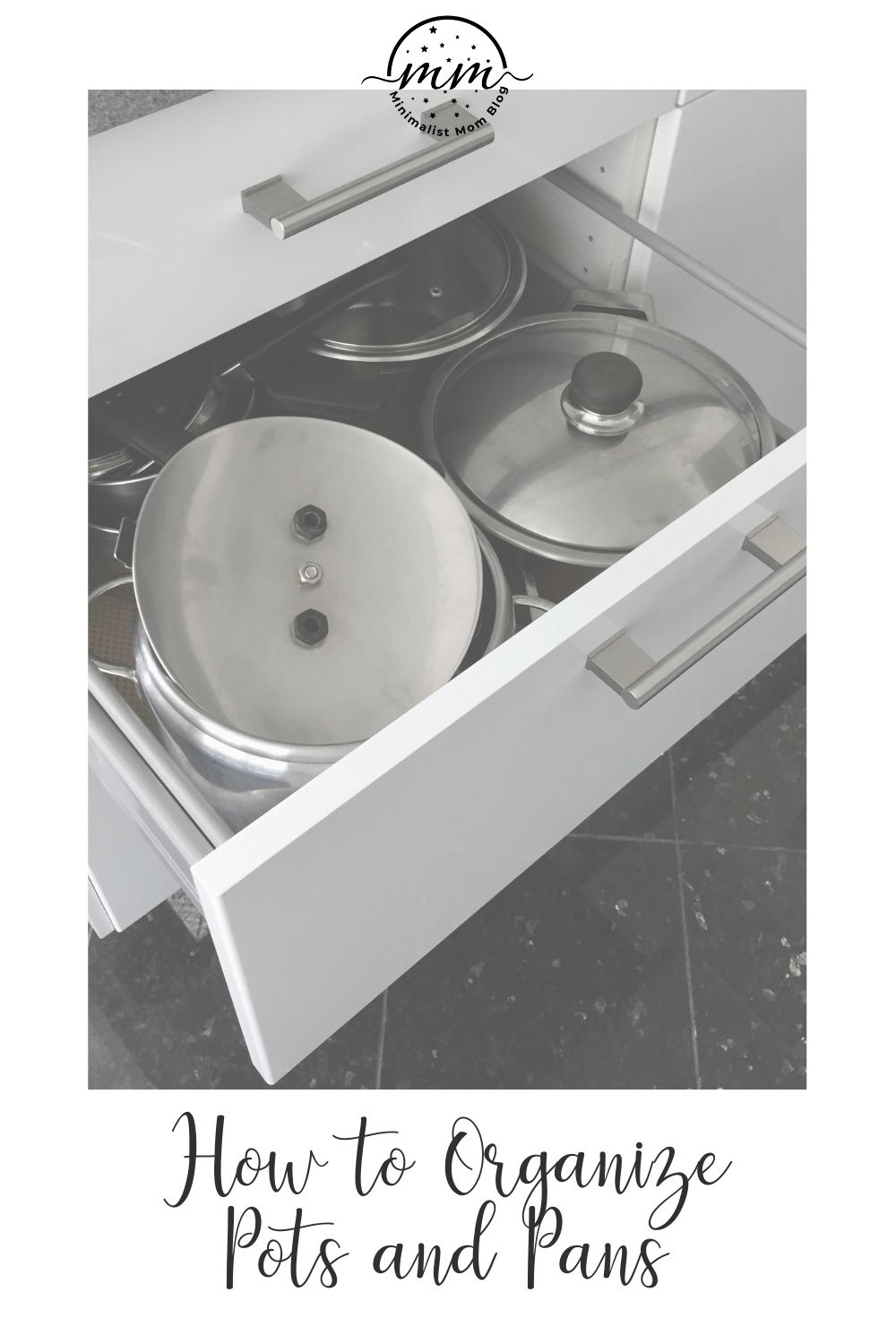 Pots and pans are the biggest culprits of a messy kitchen space. They're big, bulky, and most of the time don't stack up too nicely. So, if you're looking for unique and creative storage ideas for your cookware, you're in the right place.
In this article, I've listed some tips on how to organize pots and pans in kitchen cabinets. Let's keep the pot boiling and get started!
Invest in a Pots and Pans Organizer
Improperly stacking your pots and pans can scratch, scruff, and damage your cookware. This is especially true if they're the non-stick kind. Save yourself the frustration by getting a cabinet organizer!
When installed, you can stack your cookware either horizontally or vertically. This makes it perfect for those who don't have a lot of cabinet space. Adjustable tier is a feature you should look for, so you can position the racks depending on your pots and pans' size.
You can purchase a separate rack holder for your lids, which looks quite similar to what most of us use to hold our plates.
It's also perfect for storing cutting boards, bakeware, and serving trays.
Alternatively, you can use wire cooling racks to stack your cookware so you won't have to stack them inside one another. This way, you can take advantage of the horizontal space in your cabinet. Remember to place frequently used pots and pans on top so you can access them easily.
Use Paper Plate Dividers to Organize Pots and Pans in Kitchen Cabinets
An affordable alternative to kitchen organizers is to use paper plate dividers. These plates can act as cushioning so your cookware won't have to be stacked directly atop each other without protection.
For a "prettier" alternative, you can instead use felt pan protectors. They're typically made of heavy-duty felt material that's gentle on non-stick surfaces. Plus, they're thick enough to withstand pots rubbing together.
You can also make one yourself by using stiffened felt or paper towels. Simply cut them in a square shape and use them for your pots and pans.
Create Dividers for Deep Drawers
Drawer dividers can be made by hand using cardboard, wood, or hard plastic. All you'll need to do is cut them to the right shape and space them out to match your pots and pans' size.
If you measured correctly, your homemade dividers should squeeze right into your drawer and stay in place without an issue. You can also decorate the cardboard or wood pieces by painting or drawing on them!
If you're not too big with DIY projects, you can find several adjustable drawer separators sold in hardware stores or online. A personal favorite is Royal Craftwood's bamboo dividers, as they have built-in foam pads to hold the organizers in place.
Plus, you can adjust them to the size of your kitchen drawers!
Use Your Cabinet's Doors
If your cupboard or kitchen cabinet is large enough, hang a narrow pan by sticking an adhesive hook on your cabinet's door. Make sure that the hook is strong enough to hold the weight of your pan.
If your cabinet is made of wood, you can hammer a nail right into it. Personally, I'm not a big fan of this technique, as they're too permanent and may damage the wood if hammered in improperly.
Keep in mind that this method only works with narrow pans, as the back of the pot pokes out too much and may prevent the door from closing properly. You can also use these hooks to hang your lids.
Install Pull-Out Kitchen Storage Units in Your Cabinets
Sliding storage units are my favorite method of organizing pots and pans.
They're easy to install, heavy-duty, and look quite sophisticated! Plus, it'll make it so much easier to access hard-to-reach items in the back of your cabinet because of their smooth gliding slides.
Think Outside the Box…or the Cabinets!
If you don't have much space inside your kitchen cabinet, how about hanging them on a hanging rack, instead? Doing so will allow you immediate access to your cookware when you need it. Plus, it'll be easy to organize and dry them, as well!
The only disadvantage to this option is that your pots and pans will always be on full display. You may not want to display your cookware if they're not as "pristine" as they used to be or if they look worn and dingy with use.
However, if you have beautiful pots and pans, like copper cookware or shiny stainless steel, take pride in their beauty and show them off! They'll also add a bit of character to your kitchen.
A great alternative to hanging racks is using peel-and-stick hooks. These bad boys allow you to hang your pots and pans in awkward nooks and empty wall spaces.
If you're feeling adventurous, how about using a pegboard? They're typically used in the garage, but I think they work better in the kitchen. Julia Child stored almost all her kitchenware out in the open, and she found that pegboards work quite brilliantly.
Whether it be for pots and pans to spice racks, the possibilities are endless. Get creative! Make the pegboard 'pop' even more by painting it to match the aesthetic of your kitchen.
Tips for Organizing Pots and Pans
There's no set guideline when it comes to organizing your pots and pans. You can store them inside your kitchen cabinets, or you can place them right outside! You don't have to be a total minimalist if that's not your style. Feel free to customize your kitchen workspace as much as you can.
Regardless of how much space you have available, I hope some of the ideas above could strike some inspiration. Good luck, and happy organizing!